So I'm back from my holiday. As a reminder: I was walking around the Pembrokeshir Coastal Path, from St Ishamel's, near Milford Haven, to St Justinian's, near St. David's. How did it turn out?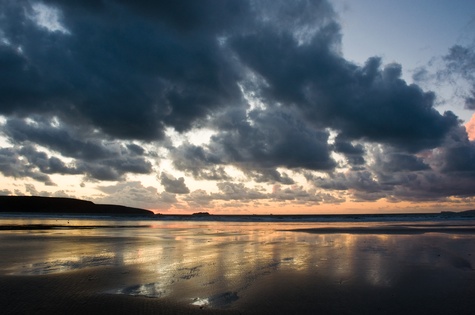 Pretty good, I reckon. Two grey days, one soaking (which came on the way home, with the wind behind me), one wash-out (which I mainly spent in The Bench with a book and a sofa), and three gloriously bright days. I walked about 70 miles, and managed to cover all the intended ground. I stayed in a variety of accomodation with some very gracious hosts and some incredible breakfasts.
Walking alone is an interesting experience. I can't remember the last time I've thought about so little (in a good way) for so long. Days went by with sporadic thoughts – individual verses of songs stuck in my head for hours on end, and when my ankles were getting almost too painful to work on, I just focused on "one foot after another" for long periods of time.
The coastal trail is particularly beautiful, but at times it feels hairy – perhaps more so, on your own. There's usually very little between you and the edge of the cliffs, and they do get higher and more sheer as you head north. It's an invigorating experience, but it brought tinges of Vertigo back.
But pictures like the one above from Broad Haven sum up the real memories I'm going to take home; afternoons on cliffs with no noise save the birds and the sea, and no-one else for miles. It was refreshing, and invigorating; I ate well (remarkably well the night I went to Cwtch), and read a fair few books. It was wonderful to slow down for a week.
A week later, I took the train back to London, still going at the 33rpm of Pembrokeshire. Photos going up slowly admist the bustle, but I'm trying to keep a glimpse of what going that slow feels like. It was very, very refreshing, and somewhat needed.
(If you're interested: I booked the trip with Celtic Trails Walking Holidays who, to be frank, were excellent. They sort out accomodation along the route, and transport your bag between sites whilst you're walking. For someone like me, who doesn't drive, it's a lifesaver, and it's nice to see different scenery every day. There's a premium for the fact they arrange everything, and also for being a solo traveller, but frankly, given they arranged the whole thing in 10 days, I was more than happy to pay it. They also supplied a fantastic welcome pack – guidebook with lovely walking maps, OS maps to cover the entire route, bus timetables, tide tables, and a decent, personal itinerary. Would recommend, and it's also a great way to find places you like so you can stay there the next time you go back, when you arrange it all yourself…)
The other pressing event on the horizon is a holiday. A much, much needed holiday. Hurrah, etc.
I am off to Wales. Specifically, I'm off to Pembrokeshire, to walk around the coastal path for six days, and then to spend a day recovering in St. David's (many thanks to Meg for the winning suggestion in the where shall Tom go on holiday? competition). I am going armed with little other than an itinerary, some clothes, a camera, and a big pile of books. I will be very much off-grid.
I'm looking forward to it immensely. I'm going to be walking every day, which will be a bit of an adventure, and consistently in one direction. I hope to write a little more about the how and why of the trip when I get back, but it's looking pretty good from this end.
Off tomorrow morning; back in a week. Infovore will be a bit silent in the meantime, but normal service will resume shortly.