So that was a pleasasnt weekend, in which I went to my first gig for about, well, nearly a year and a half. (The last, incidentally, was DJ Shadow at the Birmingham Academy, and he rocked bells).
This one was Arab Strap. The Strap were the first band I failed to see; they were playing the now defunct Attic in Cheltenham, I was about 15 or 16 and nuts about them following the release of the single Here We Go. I wasn't sure if I'd get in. I never bought a ticket. Now I'm 21, I finally got around to seeing them, and they were great. I won't say much more, because I'm writing up a review for a friend's zine, but I might get around to posting that later. Anyhow: have a blurry mopho: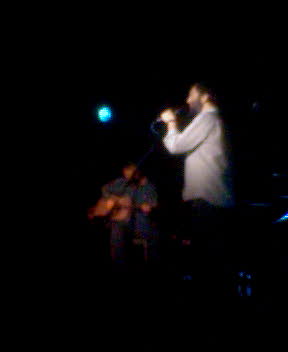 Aidan at the mic, Malcolm playing guitar; rest of band offset. This is during Packs of Three.
I also made a bonus discovery that led to my first expedition to a nightclub for god knows how long; it too was awesome. Following an NME tour gig, The Rapture and Franz Ferdinand were meant to be playing DJ sets at Sub Club. Franz Ferdinand seemed happy to mainly let the Rapture boys work the decks; they were quite busy with a bottle of Jameson's. And so we were treated to house, electro-dance, Michael Jackson instrumentals, and rock; shifting from a remix of Sister Saviour into Louie Louie and then Smells Like Teen Spirit gives a rough idea of the fun involved. It devolved into a karaoke session for Luke, and when they played Nirvana again but at about twice the (already rather painful) volume, we headed home. Still, awesome fun at a great venue. Have a picture of two of the guys I can't quite name: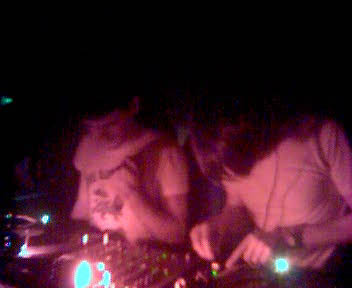 And there was the usual good food and chat and filmgoing (OK, Paycheck wasn't that good) and it was a great time.
And then I got home, and found out I didn't get the job.