Hello.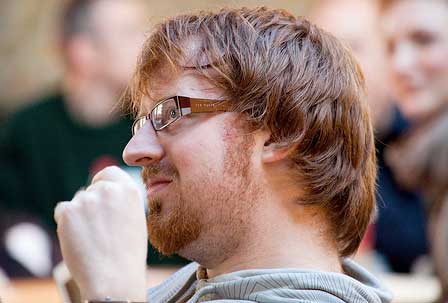 I'm Tom Armitage, and Infovore is my personal weblog. That's me on the left, for reference. I'm in my thirties, and I live and work in London.
I'm a freelance technologist, writer, and designer. I think through making, and so making is a big part of my practice – but coupled to thoughtful, deliberate interaction design and strategy.
Perhaps the most popular thing I've built is the (entirely unofficial and unsanctioned) Tower Bridge twitter bot.
About Infovore
Infovore is a weblog. Its posts fall into a variety of high-level categories – topics I tend to write about a lot – and are also tagged to provide a slightly fuzzier categorisation. You can see the kind of subjects I'm interested in at the archives.
I also store up lots of links on pinboard each day; most of the time, anything that ends up there something I've read, rather than something I'm merely linking to for later. These links are published to my blog once a day, just before midnight, and may give you a rough idea of where my brain is on a particular day.
Infovore is not my first weblog. I started that, entitled tajmahal, in late Februrary 2001. Powered by Blogger, it was a mixture of links, commentary, and personal journal. It ceased in July 2003, when I finished my undergraduate degree, and began Infovore. It's not online at the moment; I may change that, if I ever have the time to incorporate all that content.